I have been watching quite a bit of the content about John F. Kennedy on History Channel and other places lately. Rob Lowe's John F. Kennedy in Killing Kennedy was excellent. The show got me thinking about other Presidential impersonations and interpretations.
In this edition of What The What? I was thinking of the best fake Presidents of my lifetime (1969-present). These Presidents were all on TV or in the movies.
What The What? Best 10 Fake Presidents Of My Lifetime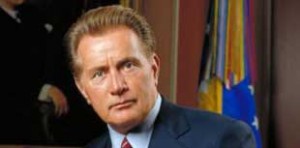 1. Josiah 'Jed' Barlet (as played by Martin Sheen), The West Wing — Funny, smart and decisive. He always thought three moves ahead. This was supposed to be smaller role on this great television show, as the show was supposed to be more about the cast around the (somewhat unseen) President. However, Barlet became a central character who appeared in all 154 episodes.
2. George W. Bush (as played by Will Ferrell), You're Welcome America – A Final Night With George W. Bush — Will Ferrell is as funny as anyone in America. As an ABA power forward/owner. As a NASCAR driver. As an anchorman. And as the President. After playing the character on Saturday Night Live, Ferrell took to Broadway in this showcase for HBO. A great political satire.
3. Richard Nixon (as played by Frank Langella), Frost/Nixon — Frank Langella is a fantastic actor. I didn't come to know him until the movie Eddie (o.k., not the greatest movie ever). Langella was nominated for an Oscar and a Golden Globe for his role in this fantastic movie.
4. Andrew Shepherd (as played by Michael Douglas), The American President — I am sucker for Aaron Sorkin's work, and I love this movie. Martin Sheen steals a lot of the presidential scenes as the President's advisor (the Leo McGarry character on The West Wing). In the end, Douglas provides the knockout punch, "I'm Andrew Shepherd, and I AM the President."
5. James Dale (as played by Jack Nicholson), Mars Attacks! — So this is not one of Nicholson's best three movies (One Flew Over The Cuckoo's Nest, As Good As It Gets, Easy Rider). Or even one of his ten best (Chinatown, A Few Good Men, Five Easy Pieces, Batman, Hoffa, Terms of Endearment, Witches of Eastwick). Still, he is funny as two characters in this very Tim Burton movie.
6. Thomas J. Whitmore (as played by Bill Pullman), Independence Day — We like our Presidents who like sports. Barack Obama plays basketball, Josiah Barlet has Notre Dame, Richard Nixon was a poker player, Gerald Ford starred in football at Michigan and President Whitmore like to give the sports pages to his Secret Service with a little commentary. And Whitmore was a fighter pilot, and he got the first shot through that eventually vanquished the aliens. He's tough.
7. Jack Stanton (as played by John Travolta), Primary Colors — Reportedly, President Bill Clinton hosted John Travolta at The White House and asked him not to trash him too badly in this movie version of the best-selling book by Anonymous. Travolta's turn as a Southern hopeful who takes the White House was excellent.
8. Harry S. Truman (as played by Gary Sinise), Truman — A very good HBO movie starring an actor who always brings his 'A' game in Gary Sinise. I am a little partial on this one as Truman is from the Kansas City suburb of Independence, Mo. and I lived in the Kansas City area for 17 years. Still, Sinise does an excellent job of portraying a fellow who took the hands of the Presidency reluctantly and ended World War II.
9. John F. Kennedy (as played by William Petersen), The Rat Pack — The Rat Pack movie is about, well, The Rat Pack. Frank Sinatra, Dean Martin, Sammy Davis Jr., Peter Lawford and Joey Bishop were The Rat Pack. But John F. Kennedy is a major figure in the movie. He is brother-in-law to Lawford, and Sinatra is trying to get him elected using his "connections". Kennedy and Sinatra's on-again, off-again friendship is played up in the great HBO movie.
10. Gerald Ford (as played by Chevy Chase), Saturday Night Live — Playing up Ford's image as clumsy, Chase helped put Saturday Night Live on the map in its inaugural season (1975-76). Chase went on to become a movie star and Ford a trivia question — the last man to serve as President who wasn't actually elected (he finished out the term when President Nixon resigned).
Honorable Mention — James Cromwell as President Robert Fowler (The Sum Of All Fears), James Garner at President Matt Douglas (My Fellow Americans) and Harry Shearer at President Arnold Schwarzenegger (The Simpsons Movie).
You may not agree with my selections, as I never watched 24 and I left out Dave Chappelle from his series doing a Morgan Freeman impersonation from Deep Impact. And Morgan Freeman himself from Deep Impact.
Your comments are welcome.