New styles. New colors. New logos. There has never been a better time to purchasing Tanner's Bar & Grill official logo apparel.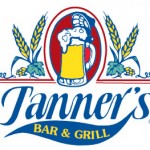 Waterwheel Falls Consulting (formerly Monster Sports LLC) has been the primary provider of official Tanner's Bar & Grill apparel for almost 10 years. In 2014, we have expanded the clothing choices, added a ton of new colors and even intruded the new Tanner's Collegiate logo.
Tanner's clothing is worn by all bar and restaurant staff at the various Kansas City area locations. The clothing ranges from ladies' cut t-shirts and tanks, t-shirts, hoodies, koozies, shot glasses and more.
Due to the large selection of colors and logo choices, all Tanner's clothing is made specifically for the person who orders the merchandise. Turnaround time from order to delivery is typically less than 14 days.
For more information on Tanner's Bar & Grill official apparel, please contact us.