If you missed part one of this blog, the NFC Edition, click here.
Just in time for this weekend's NFL playoff games, here is the AFC edition of my blog. As a fun game, while you're watching the NFL playoffs this weekend see what ridiculous jerseys you see during every crowd shot. There will be at least one Broncos' Jay Cutler jersey at that San Diego-Denver game.
I have been advocating NFL fans to resist buying jerseys of any current NFL players. It stems from all the years I attended or worked games at Arrowhead Stadium in Kansas City. Attend any Chiefs' home game and you are sure to see jerseys of Len Dawson, Derrick Thomas and Marcus Allen. You will also see Lake Dawson, Elvis Grbac and Tamarick Vanover.
Therefore, here is my list of the best and worst jersey purchases you can make. No current NFL players were considered.
AFC EAST
Buffalo Bills


Acceptable: Thurman Thomas, Jim Kelly, Andre Reed, O.J. Simpson. Sure the Bills lost four straight Super Bowls but the franchise is not devoid of jersey-worthy stars. One can argue whether Simpson belongs on this list. Before Hertz commercials, Naked Gun movies, a murder trial and an eventual kidnapping and robbery conviction, however, The Juice was the first NFL back to rush for more than 2,000 yards in a single season.
Regrettable: Replacing Jim Kelly has proved difficult for the Bills. But it hasn't stopped the selling of jerseys of Drew Bledsoe or J.P. Losman.
Dan Marino Dolphins jersey.

Miami Dolphins
Acceptable: Dan Marino, Bob Griese, Larry Csonka, Paul Warfield, Mercury Morris, Jim Kiick, Tony Nathan, Zach Thomas. Two-time Super Bowl Champions. Only undefeated team. And one of the greatest quarterbacks in NFL history. The Dolphins franchise has it all, and any of the afore-mentioned jerseys are perfect for attending a Dolphins game. I purposely left Hall of Famer Nick Buoniconti off the list. He celebrates way too much every year the last undefeated NFL team loses a game.
Regrettable: Jay Fiedler, Gus Ferotte, Daunte Culpepper, A.J. Feeley, and Chad Pennington would all be regrettable choices.
New England Patriots
Acceptable: Steve Grogan, John Hannah, Mike Vrabel, Russ Francis, Irving Fryar, Andre Tippett. Here's where the whole current jersey thing goes off the rails. Pre-Tom Brady era the New England Patriots were a sorry franchise. Their only Super Bowl appearance led to a pistol-whipping by the Da Bears team. But a Hannah jersey in the team's old colors is still pretty sweet.
Regrettable: It is disgusting that people are still selling Aaron Hernandez jerseys.
New York Jets

Acceptable: Joe Namath, Curtis Martin, Joe Klecko, Mark Gastineau, Ken O'Brien, Al Toon, Don Maynard, Wayne Chrebet. The Jets may not have played in a Super Bowl since winning the 1968 championship, but a New York team always has stars that seem larger than life.
Regrettable: Just as a disgusting as a Brett Favre Vikings jersey, a Favre Jets jersey should immediately go to Goodwill.
AFC NORTH
Baltimore Ravens
Acceptable: Ray Lewis. The future Hall of Famer should be the only acceptable jersey to wear at Baltimore games. It would just seem weird to wear a Johnny Unitas or Raymond Berry jersey to a game where the Ravens have won two Super Bowls since 2000.
Regrettable: The Ravens started in the NFL in 1996 with Vinny Testaverde (QB), Leroy Hoard (RB), Bam Morris (RB), Earnest Byner (RB), Derrick Alexander (WR) and Brian Kinchen (TE).
Cincinnati Bengals
Acceptable: Boomer Esiason, Cris Collinsworth, Anthony Munoz, Ken Anderson, Ickey Woods. The Bengals longtime cheapness hasn't resulted in any NFL Championships and just two Super Bowl appearances.
Regrettable: Chad Johnson. It would be bad to own a Chad Johnson jersey when he changed his name to Chad Ochocinco. It would also be bad to own a Chad Ochocinco jersey when he changed his name back to Chad Johnson as a Miami Dolphin.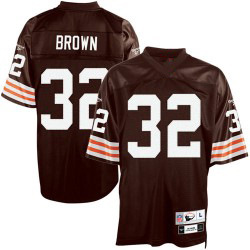 Cleveland Browns
Acceptable: Ozzie Newsome, Jim Brown, Bernie Kosar, Otto Graham, Brian Sipe. The return to the NFL for the Cleveland Brown hasn't gone very well, so its no surprise only pre-1999 Browns are on this list.
Regrettable: With their return to the NFL in 1999, the Browns had the no. 1 overall draft pick. They took Kentucky QB Tim Couch. Donovan McNabb, Edgerrin James, Ricky Williams, Champ Bailey, Torry Holt, Daunte Culpepper and Chris McAlister were among the next 10 picks.
Pittsburgh Steelers
Acceptable: Terry Bradshaw, Joe Greene, Lynn Swann, Jerome Bettis, Franco Harris, Rocky Bleier, Merrill Hoge, Dermonti Dawson, Mike Webster, Jack Ham, Jack Lambert, John Stallworth, Donnie Shell. With six NFL Championships, the Steelers are one of the most successful franchises in NFL history. They were THE team of the 1970s and had all the stars to prove it.
Regrettable: There was a time when Kordell Stewart was the QB of the Steelers. He played nine seasons in Pittsburgh where he tossed 64 touchdown passes and had 68 interceptions.
AFC SOUTH
Houston Texans
Acceptable: None. Unlike the Baltimore Ravens, the Houston Texans have had very little success since coming into the league to replace the Oilers after their move to Tennessee. Wearing old Baltimore Colts uniforms to a Ravens game seems a little strange. So does wearing old Oilers gear to a Texans game. The only acceptable throwback jersey that seems appropriate would be an Oilers Earl Campbell jersey. He's a Texas native and played at the University of Texas before his Oilers career. 
Regrettable: David Carr. The Texans initial draft was 2002, and it was a talent-thin draft. Carr was the overall no. 1 pick. Time would prove that Bryant McKinney, Roy Williams, Julius Peppers or Dwight Freeney would have been better picks.
Indianapolis Colts (Baltimore Colts)
Acceptable: Johnny Unitas, John Mackey, Raymond Berry, Marvin Harrison, Edgerrin James, Gino Marchetti, Lenny Moore. The Colts won four NFL Championships in Baltimore. The 1958 NFL Championship Game went to sudden death and is known as The Greatest Game Ever Played.
Regrettable: Jeff George was drafted in 1990 and signed the richest rookie contract in NFL history (at that time). He was 14-35 as a starter for the Colts.
Jacksonville Jaguars
Acceptable: Mark Brunnell. Jaguars fans haven't had much to cheer for. Brunnell isn't an original Jag. He was drafted by the Packers and played two seasons in Green Bay. Still, he led the Jags to three playoff appearances and one AFC Championship game.
Regrettable: Steve Beuerlein was the Jags first pick in the 1995 NFL Expansion Draft for the Jaguars and Panthers.
Tennessee Titans (Houston Oilers)
Acceptable: Steve McNair, Frank Wycheck, Eddie George, Curley Culp, Bruce Matthews, Earl Campbell, Warren Moon, Billy Johnson, Dan Pastorini. In 1997 and 1998 franchise was known as the Tennessee Oilers, and McNair was the starting QB.
Regrettable: Kevin Dyson. He was the Tennessee Oilers first-round pick in 1998. He was the recipient of the pass from Wycheck in the Music City Miracle game in the 1999 playoffs. He was also the guy tackled one yard short of the end zone to end the 2000 Super Bowl. He was also taken five picks sooner than Randy Moss.
AFC WEST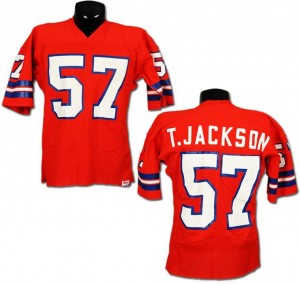 Denver Broncos
Acceptable: John Elway, Steve Atwater, Tom Jackson, Dennis Smith, Shannon Sharpe, Karl Mecklenburg, Terrell Davis, Rick Upchurch. The Broncos are the perfect example of why you shouldn't buy current NFL jerseys. Peyton Manning may lead the Broncos to the Super Bowl this year. Buying a Manning Broncos' jersey, however, is just as big of waste of money as a Favre Vikings jersey, a Joe Montana Chiefs jersey or a Namath Rams jersey. Manning will always be a Colt. He won a Super Bowl with the Colts. He will go into the Hall of Fame as a Colt. And he will never be as beloved in Denver as Elway.
The Broncos, like the Chargers' powder blues and the Buccs' creamsicles, have a throwback jersey that will never go out of style — the Orange Crush jersey. It's the only way to go.
Regrettable: Jake Plummer, Brian Griese, Tim Tebow. The Broncos sold some jerseys on the names of some players that didn't have a lot of success in Denver.
Kansas City Chiefs
Acceptable: Len Dawson, Otis Taylor, Emmitt Thomas, Priest Holmes, Will Shields, Nick Lowery, Marcus Allen, Derrick Thomas. The Chiefs currently own the longest streak of playoff losses in the NFL, but there was a time when this team was good. If you can find a Deron Cherry or Buck Buchanan throwback jersey, buy it.
Regrettable: Arrowhead Stadium is the mecca for bad NFL jersey purchases. And with those Midwestern values of not throwing anything away until it becomes utterly useless, Chiefs fans will wear those bad jersey purchases until they are thread bare. Just Google the words "Chiefs fans" and see the collection of jerseys — Joe Montana (didn't he win some Super Bowls for the 49ers?), Jared Allen, Larry Johnson. It is hilarious.
Oakland Raiders
Acceptable: There was a time when the Raiders were not only a great team, but a team full of great characters. Howie Long, Jim Plunkett, Kenny Stabler, Art Shell, Bo Jackson, Dave Casper, Marcus Allen, Tim Brown, Fred Biletnikoff, George Blanda, Jack Tatum.
Regrettable: From 2001-08 (the drafts between Sebastian Janikowski and Darren McFadden), the Raiders first-round NFL Draft picks were Philip Buchanon, Napolean Harris, Nnamdi Asomugha, Robert Gallery, Fabian Washington, Michael Huff, JaMarcus Russell. Only Huff is still playing in the NFL.
San Diego Chargers

Acceptable: Lance Alworth, Dan Fouts, Junior Seau, Kellen Winslow, LaDainian Tomlinson, John Hadl, Charlie Joiner. Get yourself a powder blue of your favorite player and always be styling.
Regrettable: Ryan Leaf. And someday when he retires, Drew Brees. Brees will never be remembered for his time in San Diego compared to his time in New Orleans.
There's the list. Agree or disagree, your comments are welcome.