I love everything about Las Vegas. The Strip, the casinos, the weather, the scenery, the tourist traps, the dives, the traffic. This is where I wanted to live for last 10 years in Kansas City. It's where I have lived for the past 3 1/2 years.
A popular setting for movies (The Hangover, Vegas Vacation, Oceans 11, Mars Attacks) and television shows (Vega$, Las Vegas, CSI Las Vegas), many of the tourists who come to Las Vegas think they "know" Las Vegas.
Here's five things you don't know about Las Vegas:
1. Las Vegas is small. When you are flying in or driving in to Vegas at night and see all the lights, Las Vegas seems huge.The metro area boasts more than 1.9 million people according to the 2010 U.S. Census. That makes Las Vegas a little smaller than Cleveland and Kansas City, a little bigger than Indianapolis and Nashville.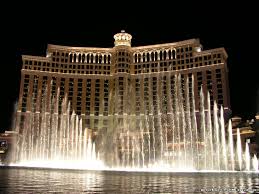 2. The Bellagio is not in Las Vegas. Nor is Mandalay Bay, MGM, Aria or The Mirage. The Strip is not part of Las Vegas, but rather part of three unincorporated towns — Paradise, Winchester and Enterprise, Nevada. Paradise, Nevada, is actually the largest unincorporated town in the United States with a population over 200,000 people.
3. It's a desert out here. All of Las Vegas, as well as parts of Utah, Arizona and California lie within the borders of the Mojave Desert. It may be hot in Las Vegas, but the Mojave Desert's hottest spot is Death Valley, Calif. The hottest temperature ever recorded in the World happened in Death Valley, when it reached 134F in 1913. (thanks, Wikipedia).
4. We are kind of popular. Las Vegas boasts one of the 10 busiest airports in the United States. The city attracts more than 30 million tourists a year, and a lot of them fly to get here.
5. The oldest casino in Las Vegas is the Golden Gate. Located downtown on Fremont Street and opened in 1906, the Golden Gate (then Hotel Nevada) is the oldest casino still in operation in Las Vegas. The casino operated before gambling was prohibited (1909-1931). When legalized gambling was restarted in 1931, the Golden Gate brought the tables and slots back out of storage. (source: Golden Gate Casino).
Now come on out for a visit. What happen here, stays here.