Taking me to the brink of complete craziness, Ace has made a remarkable comeback and is starting to figure things out.
Ace — or "Crazy" Ace, as he has been referred to since joining the clan — is a 15-month old Jack Russell terrier mix I adopted from Petsmart in Henderson, Nev., a few months ago. He is equal parts rambunctious and energetic, while sadly also showing signs of previous abuse and neglect. Jack Russell's can be incredibly tough to train/control due to their high intelligence and abundance of energy. But to release one to the streets, like this little 16-pounder was, is just plain dumb.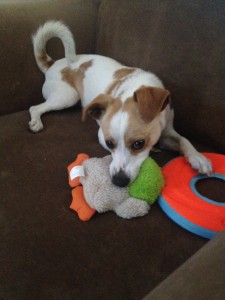 After I adopted Ace we had some trying moments. Since he was turned out by a previous owner and then caged as a rescue, he was used to going potty wherever and whenever. No part of my house was safe for awhile. He also was incredibly good at tearing stuff up. In his first few weeks he destroyed a pair of Beats headphones (which cost more than his adoption), a backpack, two rugs, three door stops, so many toys I've lost count and a workbook for a class I was taking.
He has the agility of a cat. I have found him standing on my high kitchen table stealing a Kings Hawaiian roll and also on my desk. He bounces through the house like the combination of a roadrunner and a kangaroo. He loves to chase toys, the squeakier the better.
Ace doesn't like to be kenneled up. Even though the 'kennel' in my house means two 10-foot hallways with all his toys and bowl of water while I go to work.
There are times when he has frustrated me beyond belief. I couldn't get him to go in the kennel so I could go to work. By his thinking if he never went in the kennel I would never leave. When I would pick him up to carry him there, he would piddle on the couch/floor.
But just when I thought he might have to be re-homed to someone with more patience and more time, Ace started to show signs of figuring it all out.
It's quite obvious that his original home was fraught with punishment and yelling. A dog as strong and brave as a Jack Russell should not roll over on his back, play dead and pee himself when he's yelled at for a misdeed. It was a sad sight to see. I completely switched my training to no punishment at all. Even when he does something wrong like destroy two rugs and a roll of toilet paper in my hall bathroom I just tell him its okay. It was my fault for leaving the door open and tempting him.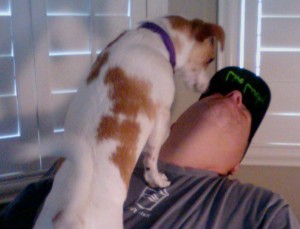 This has led to a much more behaved dog. When it's time to go to bed, he goes to the bedroom, walks into his bed, curls up and goes to sleep. When we go for a ride, he runs to the car and waits to get in. Then he stays in the back seat the entire time. When we complete a walk be getting back to our house he just walks up the driveway, turns onto the sidewalk and walks up to the front door.
Today we ran three errands. Not once when I got out of the truck to go into a store did he whine or cry. He simply kept and eye on the door and waited for my return.
I couldn't be more proud of the dog Ace is becoming.