Las Vegas may be "Sin City" and "Adult Disneyland" but there is still a lot to do for families both visiting town and living here.
This is by no means a complete list, and I will revisit it from time to time to update it. But these attractions are all ones I have participated in with my young son or friends with kids.
FREE ATTRACTIONS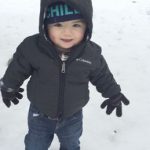 Mt. Charleston — There are many great attractions to Mt. Charleston. There is a lodge near the top where you can get a good meal. There is a ton of snow between December and March. There is a ski/sledding resort and family areas. There are a number of great hikes.
Sunset Park — Located in the central part of the city (Eastern Avenue at Warm Springs Road), Sunset Park is large. There is a paved walking trail, plenty of open grassy area and a huge pond where kids can feed the ducks and geese. There is also several sets of playground equipment around the park.
Railroad Tunnels Hike — Located outside of Boulder City, NV near the Hoover Dam it is one of the easiest hikes in Las Vegas. But it also steeped in history. You will walk through five short tunnels on a path that used to be a railway that carried supplies to the Dam from 1931-35. The hike also overlooks Lake Mead. And, if you are lucky you may see a wild ram up on the surrounding hillsides.
PAID ATTRACTIONS
Shark Reef Aquarium at Mandalay Bay — A favorite of my son. It's not just the giants sharks swimming right by the glass. There are tons of reptiles, sea turtles, fish, octopus and jellyfish. During the Summer months, Shark Reef is open 10AM-10PM daily. After the tour, there is a great food court nearby.
Discovery Children's Museum — Located downtown Las Vegas, the Discovery Children's Museum has interactive educational games and displays on every level. Kids of all ages will enjoy the exhibits. There are plenty of buttons to push, things to touch and feel and exhibits that will make kids go "Wow!"