After some time of thinking about it and consulting a few friends over the past several days, I decided it was finally the right time to adopt another dog.
I lost my beloved Pirate back in October, just a few days shy of his 12th birthday. His health was deteriorating and I didn't want him to be in pain. It has been hard coming home and waking up each day to an empty house.
I don't believe you can ever replace that first pet. Everything about them is just so special. There will definitely never be a replacement for Pirate and all the things he brought to my life.
However, there are lot of pets living in cages who ask for nothing more than a loving home. They have been neglected or simply set loose to fend for themselves. They sit in shelters just begging for adoption.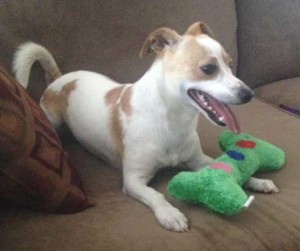 My new dog is Ace, an approximately one-year old Jack Russell Terrier. I've always appreciated how smart and how energetic Jack Russells are as a breed. Maybe it goes back to my interview with Eddie (real name: Moose) from Frasier.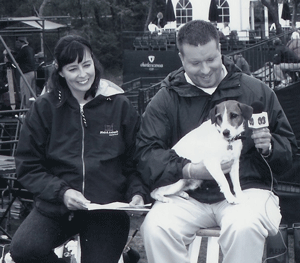 Ace, like Pirate before him, is a pound pet. He came into the Petsmart Adoption Center last week though The Animal Foundation of Las Vegas as a stray.
I first visited with Ace yesterday and liked him immediately. He was friendly in his cage, wagging his tail and licking my hand. When the handler brought him into the room for to see if we were compatible he immediately jumped in my lap and starting licking my face.
I was sure he was the one a few minutes later. I was reading a text I had just received and Ace took the opportunity to pee all over my leg. We belonged together!
This afternoon I went back to Petsmart to adopt Ace. It was a quick, easy process. We picked up a few supplies and a new dog tag. Now the training begins.
But not right now. Right now it's finally nap time for one happy, energetic boy.