I finally get a day off. Jace and I head to Summerlin for a pool party.
I have heard and overheard a number of people say recently, "2013 was the worst year of my life", "I can't wait for this year to be over", "this has been a terrible year" or some variation of such.
I also feel this way. Personally, 2013 has been a terrible challenging year. Maybe its the 1-3 at the end of the year. That unlucky number 13. However, I came into 2013 expecting and hoping for a big year. It did not work out.
The lowlights:
Three different women broke up with me (on a positive note: three different women dated me!)
I completely bombed in the World Series of Poker. No cashes, finished 39th in the $2,000 qualifier to the Main Event when I needed a top 20 finish to get in. In one memorable live game I lasted three hands, losing $200 with Q-Q on a board of 6-4-6-2-4. I had raised preflop, my opponent called with 8-6 offsuit.
In October, my loyal German shepherd companion Pirate had to be put down 10 days shy of his 12th birthday.
I was told by my employer that if I didn't shorten my vacation it would not be approved. This was a vacation to the Philippines I had been planning for six months. I caved, and shortened my vacation by seven days. It didn't help, as my employer laid me off five days before I was to leave on vacation. (Another positive note: I went on vacation to Boracay and Manila in the Philippines).
Upon arriving in the Philippines my (ex) girlfriend informed me via text that I was going to be a first-time dad at age 44. Currently, me and the mom-to-be of my July 2014 baby are not in a relationship. (Obvious positive note: I'm going to be a father!).
As 2013 wraps up I am unemployed, without insurance and going to be a father.
I don't want to come off as negative because I don't feel that way. I know three-fourths of the world's population lives on less than $2 per day while I live in a suburban house with a backyard and an in-ground pool.
A majority of the world walks, or rides animals/bicycles to get places. I drive a very nice car, which I love. I will probably have to sell it and find something more affordable and baby-friendly, but for now I am enjoying it.
I am generally healthy, though I could shed a few (ok, 40) pounds.
I am writing a blog on a nice Mac computer while watching a football game on a 55-inch TV.
I live in Las Vegas, my favorite city in the entire world.
My life isn't that bad.
For reasons good and bad, we all need to put 2013 behind us and look forward to a great 2014. There is no doubt I am finishing up the worst year of my life. But I am going to choose to be positive and move forward in 2014. We all need to try to make sure each new year is better than the year before. And we can do this by taking stock of ourselves and leaning on each other.
Here are a few ideas:
Read More/Watch Less. Yes, I am watching a football game while I am writing this. I like the noise more than I care about this bowl game. But I've also rediscovered the joy of turning off the television and embracing the written word this year. I've alway loved books, but I don't take enough time to read. This year I tackled "Quitter" by Jon Acuff, Andy Andrews' "The Traveler's Gift" and "When The Mob Ran Vegas" by Steve Fischer. They were all excellent. I love great story-telling and thoughtful prose. Do you really need to know what the Kardashians are doing when there are so many great books unread?
Save More/Spend Less. I've always struggled with saving and budgeting. I like things too much. I'm an early adopter of new technologies. All of this has led to being a 44-year old man with not enough savings or retirement. No more. I know I can't get a handle on my money without some professional help. I am turning that part of my life over to Dave Ramsey. I recently met a person who has completely reworked his finances over 18 months by following Dave's plans. I am taking my first class next week and am looking forward to the journey.
Be Kind. Be Grateful. Each day be grateful for what you have and be kind to someone else. That positive energy is good for the heart and good for the soul. Say hello to a passing stranger. Smile while waiting in line at the post office. Tell a woman you love her shoes. Let someone who seems to be in a bigger hurry than you cut in front of you in line at the grocery store.
Be The CEO of You. I can't take credit for relocating to Las Vegas or buying this great house if I don't also take blame for being laid off. You are the CEO of you. Take all the credit for the great things you have your life. But take the blame when things are going South. Show some personal responsibility.
I read an article at Christmastime about consumers who were at odds with UPS for not delivering their Christmas presents on time. It seems UPS was overwhelmed by the amount of packages shipped and just didn't get the job done despite extra shifts, extra planes and extra personnel. Consumers were taking to Twitter and to Facebook saying UPS ruined their Christmas. Christmas is not about material objects. It's a religious holiday that is also celebrated by non-religious people as a season of giving — of presents, yes, but also of time, donations to charity and kindness to others. Therefore, UPS could not ruin Christmas. You ruined your own Christmas by believing the only thing that mattered was the timeliness of your gift delivery. Has anyone ever been mad about receiving a gift December 26th instead of the 25th?
We are all works in progress. I am far from perfect, and know I will never reach perfection. But I am going to keep trying to better, to be kinder, to save more and to grow my mind and strengthen my body. I hope you will, as well.
Good riddance, 2013. Happy New Year 2014.
Friday will be my 44th birthday party. It's not a milestone birthday like a 50, but I am determined to make this one as great as can be.
I have had a relatively bad history with birthdays. My mother passed away the day after my 19th birthday. No. 37 was supposed to be hot Asian girlfriend making me breakfast in a French maid outfit and a scooter tour of the Kansas City Zoo (which I was looking forward to doing). Girlfriend didn't think she looked good in the outfit so she didn't wear it. She ruined breakfast, and she didn't want to go to the zoo, so we didn't go.
Last year was an unmitigated disaster — perhaps the worst birthday of my life — with blonde girlfriend getting drunk, picking a fight with me at the Golden Nugget and dumping me in a hotel room where we were supposed to spend the night. I ended up having to drive back home at 2AM. The she let herself into my house at 3AM to make up, scaring the daylights out of me.
They haven't all been bad. No. 30 was pretty cool, as all my friends and family visited Kansas City for a huge party at a downtown restaurant. It was one of the last times I saw my grandmother alive, and she stayed at the party until the end.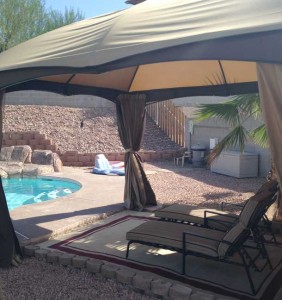 This one is going to be great! Instead of going out and trying to make it into a big shindig, the party is coming home. I am also single, which is probably the best way to be when one is having a big birthday bash at their own house in Las Vegas.
It's an all-day, all-night poker, barbeque, pool party at my house. I am opening the doors to all my friends to come hang out at the pool, play some poker and enjoy a ton of great food! Guests have already pledged brisket, pork loin and brats. I have the potato salad and macaroni salad lined up. It's still over 100F every day in the Vegas so the pool will be in the high 80s during the day and low 80s at night.
Even the new cabana is ready!
It is going to be epic.If you really know me, then you are invited. Swimsuits are recommended, but not required. Have a little cash if you want to play some poker.
It all starts Friday, August 9 at 11AM.