It's been too long since I posted a blog. There are a few reasons excuses:
a. My website is a bit of a mess as I am redoing the theme and I am not proficient in making the changes
b. I took a new graveyard job
c. I can be lazy
d. All of the above.
If you answered any of the above, you are correct.
A lot has happened since my last blog:
FINANCIAL PEACE UNIVERSITY
I finished Dave Ramsey's 9-week course "Financial Peace University." It is eye-opening and life-changing. I wish I had discovered Dave Ramsey 20 years ago. If you are having trouble with debt, worried about your retirement or just need a new perspective on money and debt this is a must do. You can go to Dave's website to get all the details. I have a long ways to go to switching my situation around. But it is going to be worth it in the end.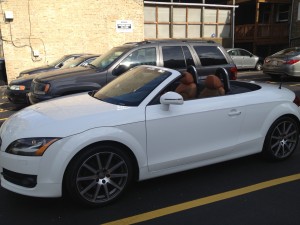 By the way, anyone want to buy a really sweet Audi TT Roadster?
MANDALAY BAY
I took a graveyard job dealing poker at Mandalay Bay*. The job has been more terrific than I could have imagined. There is a very cohesive poker team at Mandalay Bay, excellent promotions for both locals and the resortists that stay at the property and some really good poker. I am dealing four days per week, flooring one day a week and enjoying every moment of it.
Dealing full-time hasn't derailed any of my future plans. In fact, the job has enhanced them. It's great being on The Strip five days per week and meeting new people. I can still play poker on my days off. And the income is helping my get through the seven baby steps of Financial Peace University faster. It's win-win.
JACE ALLEN
The J-man is coming July 21. Everything has been good so far. His momma Jenna is doing well and we are less than 90 days away from his arrival. I still need to do some work on his room, as it used to be my office. I need to install some new doors on his closet, a new blind on the window and do some painting. It's getting real and it's getting exciting.
PLAYING POKER
It's been awhile since my last poker playing post. As far as I can tell from my Poker Journal software I've posted winning sessions in 10 of my last 14 sessions since my last post. Unfortunately three of those four losses were just straight beatings. Staggering, run-over-like-a-truck beatings. Still, my bankroll is at $2,786 after dropping $1600 on a 1994 Ford Explorer. As soon as I sell the Audi TT Roadster I will be sans a car payment for the first time in 20 years.
NEW BANKROLL: $2,786
*The postings on this site are my own and not necessarily reflect the views of the MGM Resorts.