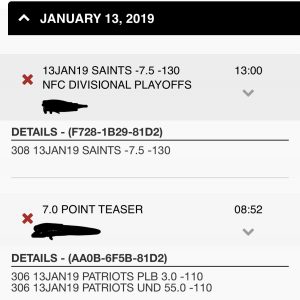 If you live in the entertainment and sports betting capital of the world — Las Vegas! — you find plenty of entertainment in betting sports.
But I'm not just some jack hole who throws a few games and hopes I am right. I research teams, I read newspapers from cities all over the NFL, MLB, NBA and NHL.
Divisional Round weekend was a rough one for me. My first instinct Saturday was just bet the Chiefs under because the weather was going to be bad in Kansas City. The area was blanketed by snow, and my friends there said it was worse at the stadium, which is located on the NE side of town, than it was in the rest of the city.
As you can see I hit the under when the Chiefs won 31-13. In fact, this line fell from 57 to 53.5 points after I made the bet and the teams still went under. Unfortunately, I got a little loose and picked the Colts to stay within 12 points. Had they scored on the last play of the game instead of coming up four yards short I would have won that bet.
The afternoon bet was much easier. Dallas had no chance of winning that game in LA, and I'm surprised they even got within 8 points.
Sunday was a train wreck. I knew the Patriots would cover easily, but I thought two top 10 scoring defenses would play a little better in the cold conditions in Foxboro. Instead, the Pats marched up and down the field, and I lost the teaser bet when the total finished at 69 points.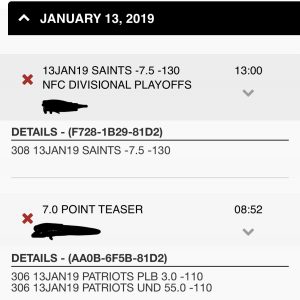 In the nightcap I was sure the Saints would cover after blowing out the Eagles during the regular season. I bought a point from 8.5 to 7.5 for a little insurance. Instead, the Eagles got off to a 14-0 lead in the first quarter.
The Saints led 20-14 with 10 minutes to go in the game. They had a chance to cover on a 52-yard field goal by Wil Lutz with three minutes to play but the kick went wide.
That's how close sports-betting can be. A Colts pass ends up four yards short of a touchdown on the last play of the game, and the Saints miss a field goal.