If you live in the entertainment and sports betting capital of the world — Las Vegas! — you find plenty of entertainment in betting sports.
But I'm not just some jack hole who throws a few games and hopes I am right. I research teams, I read newspapers from cities all over the NFL, MLB and NBA and I post my bets on my Instagram and Twitter for the whole world to see.
Each week I will give you my free pick of the week.
---
Coming soon…The Monster's Pick 5. Five great picks for you to put your money on.
---
I put my money where my mouth is. Don't listen to these charlatans who say they win every game or win 80 percent of their picks. They are straight-up lying to you. Here are my actual recent bets.
SINCE OCTOBER 13 — 21-14 overall (60%)
November 11
Cowboys at Eagles -7.5 LOSS
Cardinals at Chiefs U49.5 WIN
November 10
Washington State (-6.5) at Colorado WIN
Kansas at Kansas State U47 WIN
November 8
Panthers at Steelers -3.5 WIN
November 4
Lions at Vikings -5 WIN
Chiefs -8 at Browns WIN
Rams -2 at Saints LOSS
Packers at Patriots -5 WIN
November 3
Oklahoma State -6 at Baylor LOSS
Penn State at Michigan -12 WIN
Alabama -13.5 at LSU WIN
November 1
Raiders -1 at 49ers LOSS
October 29
Patriots -14 at Bills WIN
October 28
Saints at Vikings 1st QTR Pick Vikings WIN
Saints at Vikings -2 LOSS
Packers at Rams -6.5 LOSS
Broncos at Chiefs -9.5 LOSS
Broncos at Chiefs O53.5 LOSS
Broncos at Chiefs O47 TEASER WIN
Broncos at Chiefs -3 TEASER WIN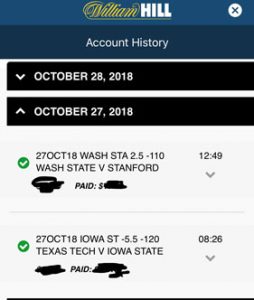 October 27
Washington State -2.5 at Stanford WIN
Texas Tech at Iowa State -5.5 WIN
October 21
Saints vs Ravens O49.5 LOSS
Vikings -3.5 vs Jets WIN
Chiefs -0.5 TEASER vs Bengals WIN
Chiefs UND 63 TEASER vs Bengals WIN
October 19
NL Championship Series Game 6 – Brewers ML WIN
October 14
Chiefs -3.5 at Patriots WIN
Rams -7 at Broncos LOSS
Steelers at Bengals O50 LOSS
Bears -7 at Dolphins LOSS
Cardinals at Vikings -10 WIN
October 13
Nebraska -3.5 at Northwestern LOSS
Tennessee at Auburn – 14.5 LOSS