I spent Saturday afternoon in downtown Las Vegas, mainly in Binion's and Golden Nugget. Due to the NFL playoffs, many casinos are allowing their employees to wear NFL jerseys at work. I was appalled to see a Daunte Culpepper Dolphins jersey, a Brett Favre Vikings jersey and a David Garrard Panthers jersey among the casino employees. Wasted money all around.
While walking around I was reminded why I made the decision a number of years ago to ditch all my current Vikings jerseys and only purchase the jerseys of retired Vikings. I once owned a Cris Carter jersey, a Randy Moss jersey and a Daunte Culpepper jersey. Two of those three purchases are regrettable now. Today, I own five Vikings jerseys: Fran Tarkenton, Ahmad Rashad, Chuck Foreman, Paul Krause and Alan Page. For Vikings fans, the Purple People Eaters era will always be cool.
I have been advocating NFL fans to resist buying jerseys of any current NFL players. It stems from all the years I attended or worked games at Arrowhead Stadium in Kansas City. Attend any Chiefs' home game and you are sure to see jerseys of Len Dawson, Derrick Thomas and Marcus Allen. You will also see Lake Dawson, Elvis Grbac and Tamarick Vanover.
Therefore, here is my list of the best and worst jersey purchases you can make. No current NFL players were considered.
NFC EAST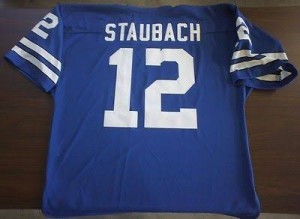 Dallas Cowboys
Acceptable: Emmitt Smith, Bob Lilly, Troy Aikman, Michael Irvin, Tony Dorsett, Roger Staubach, Jay Novacek, Ed "Too Tall" Jones, Daryl Johnston, Bill Bates. Any jerseys of the stars of the 1970s glory years or the 1990s glory years of "America's Team" are the best.
Regrettable: Money spent on a Terrell Owens or Herschel Walker jersey could have been spent on more 10-gallon hats.
New York Giants
Acceptable: Phil Simms, Harry Carson, Carl Banks, Lawrence Taylor, Michael Strahan. Super Bowl winners jerseys never go out of style. Even Lawrence Taylor's legal and personal post-career problems can't take away from the memories of the menacing game-changing pass rusher he was as a pro.
Regrettable: The purchase of a David Tyree jersey is a great example of why to never buy a current player jersey again. Tyree never had another reception in the NFL after his amazing Super Bowl catch in 2008.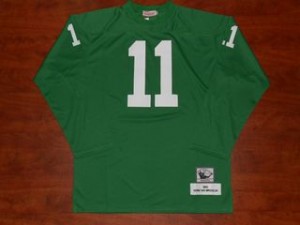 Philadelphia Eagles
Acceptable: Norm Van Brocklin, Randall Cunningham, Harold Carmichael, Ron Jaworski, Wilbert Montgomery, Brian Dawkins, Reggie White, Herm Edwards. Yes, youngsters, before they were on ESPN Jaws and Herm were NFL players. Have you heard the tale of the Miracle at the Meadowlands? Unfortunately, the Philadelphia's NFL championships came in 1948, 1948 and 1960 so the Eagles' throwback jerseys go way back.
Regrettable: Mike Vick. Not only were his best years in Atlanta, he came to Philly after a prison term.
Washington Redskins
Acceptable: John Riggins, Joe Theismann, Charles Mann, Dexter Manley, Charley Taylor, Sammy Baugh, Art Monk, Darrell Green, Russ Grimm, Doug Williams.
Regrettable: Wouldn't $125 be better spent simply throwing it out the window of a moving car one dollar at a time than buying an Albert Haynesworth jersey?
NFC NORTH
Chicago Bears
Acceptable: Walter Payton, Jim McMahon, Gale Sayers, Mike Ditka, William Perry, Dick Butkus, Brian Urlacher, Mike Singletary. As one of the NFL's most historic franchises a jersey buyer can't go wrong celebrating the Monsters of the Midway era, Da Bears or any of the prolific middle linebackers that have donned a jersey at Soldier Field.
Regrettable: I really wanted add the jersey of 2003 Bears' first-round pick Rex Grossman to this list. Then I found out Rex Grossman is still on the Washington roster. Third-string QB in the NFL is more hidden than FBI witness protection. Still, if you own a Rex Grossman Chicago Bears jersey donate it to Goodwill.
Detroit Lions
Acceptable: Barry Sanders, Billy Sims, Dick LeBeau. The Lions were founded in 1929 as the Portsmouth Spartans and have been the Lions since 1934. The have four NFL Championships. Yet there are only three jerseys you should ever buy. What a historically bad NFL franchise. If you can find a Bobby Layne jersey or an Alex Karras jersey it is probably game-used and/or autographed. It's not something you would wear to a game at Ford Field.
Regrettable: For a historically bad 12-year run the starting quarterbacks of the Detroit Lions were Scott Mitchell, Charlie Batch and Joey Harrington. It is unconfirmed, but buying these jerseys may have led to the entire city of Detroit going bankrupt.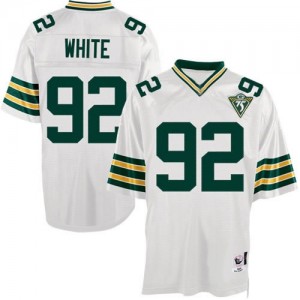 Green Bay Packers
Acceptable: Ray Nitschke, Bart Starr, Brett Favre, Reggie White, Jerry Kramer, James Lofton, Sterling Sharpe, Paul Hornung. Reggie White is an acceptable jersey as a Packers' fan and an Eagles' fan. He was that good. As a lifelong Vikings fans it pains me to admit the Packers have 15 NFL Championships (11 pre-merger, two AFL-NFL titles and two Super Bowl championships). A franchise cannot be that good without having some amazing players.
Regrettable: There has to be a few Reggie Cobb or Najeh Davenport jerseys still hanging in closets.
Minnesota Vikings
Acceptable: Cris Carter, Fran Tarkenton, Alan Page, Ahmad Rashad, Paul Krause, Chuck Foreman, Carl Eller, Jim Marshall. The best years of the Vikings' franchise are 1970-80. Although the Purple People Eaters have never won an NFL Championship they were a dominant team during that year and featured many stars.
Regrettable: Since the conclusion of a 15-year run of Tarkenton and Tommy Kramer helming the Vikes in 1986, the Purple and Gold have struggled at signal caller. If you own a Vikings jersey of QBs Wade Wilson, Rich Gannon, Sean Salisbury, Jim McMahon, Warren Moon, Brad Johnson, Randall Cunningham, Jeff George, Daunte Culpepper, Tavaris Jackson, Gus Ferotte, Brett Favre or Christian Ponder you either have no appreciation of Vikings history or little self-awareness. A true Vikings fan would never wear a Favre Vikings jersey. Only a Favre fan would wear one.
NFC SOUTH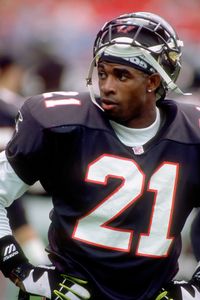 Atlanta Falcons
Acceptable: Deion Sanders, Steve Bartkowski. Sanders started his NFL career in Atlanta prior to being Prime Time for the 49ers, Cowboys, Redskins, Ravens, New York Yankees, Atlanta Braves, Cincinnati Reds and San Francisco Giants.
Regrettable: Warrick Dunn. The Falcons were 44-51-1 over during the Dunn era.
Carolina Panthers
Acceptable: Sam Mills. He may have spent his last three NFL seasons with the Panthers but he is still their greatest retired player. His no. 51 is retired by both the Panthers and the Saints.
Regrettable: Rae Carruth. A star wide-receiver at Colorado and a former first-round draft pick, Carruth caught 44 passes and scored four touchdowns as a rookie. Unfortunately, he is best known for being convicted of conspiracy to commit murder and other crimes against his pregnant ex-girlfriend. The NFL maintains a banned word list for the backs of customized jerseys from the NFL shop. Carruth is among those words.
New Orleans Saints
Acceptable: Archie Manning, Rickey Jackson, Morten Andersen, Willie Roaf, Sam Mills. Once a franchise so bad it was known as the Aints, New Orleans has had a superstar players.
Regrettable: In 1999, Coach Mike Ditka started Billy Joe Tolliver, Billy Joe Hobert and Jake Delhomme at quarterback at different times in the same season. Those three finished a combined 3-13, Ditka was fired and the Saints turned to Jeff Blake for the 2000 season. Take your pick of bad QB jerseys.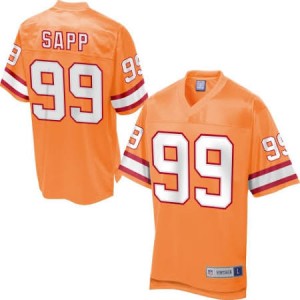 Tampa Bay Buccaneers
Acceptable: Warren Sapp, Doug Williams, Lee Roy Selmon, Derrick Brooks, John Lynch. For a Buccaneers fan there is not much cooler than a Sapp creamsicle Bucs jersey. He was was a Hall of Fame player with a Hall of Fame personality.
Regrettable: Just a couple of seasons ago a Josh Freeman Bucs jersey would have been a hot seller. After a messy exit in Tampa Bay, he is now an inactive third-string QB for a bad Vikings team.
NFC South
Arizona (St. Louis) Cardinals
Acceptable: Pat Tillman, Kurt Warner. Jim Hart, Dan Dierdorf, Roger Werhli, Jackie Smith. The Cardinals have only been in Arizona since 1988. Tillman is the greatest retired Cardinal of the Arizona-only era, playing from 1998-2001. Kurt Warner took the Arizona Cardinals to their only Super Bowl, but is better known as a St. Louis Ram.
Regrettable: There is a company in America who wants you to pay $104.25 for this jersey.
San Francisco 49ers
Acceptable: Joe Montana, Jerry Rice, Steve Young, Dwight Clark, Ronnie Lott, Roger Craig. It's hard to go wrong with a franchise that has won five Super Bowls.
Regrettable: After it was determined that Jeff Garcia would not be the quarterback to inherit the throne from Joe Montana and Steve Young, he played for seven different franchises, including the Eagles twice and the Omaha Nighthawks of the United Football League.
Seattle Seahawks
Acceptable: Steve Largent, Cortez Kennedy, Jim Zorn, Kenny Easley. I was seven years old Seahawks franchise was born. I thought they had a cool logo and cool colors. What they haven't had is a lot of superstar players. Largent is a Hall of Famer.
Regrettable: Rick Mirer was the second overall pick in the 1993 NFL Draft. Willie Roaf, Jerome Bettis, Robert Smith, Michael Strahan and Will Shields were selected later in the same draft. But if you want to waste $76, you can still buy a Mirer jersey.
St. Louis (Los Angeles) Rams
Acceptable: Nolan Cromwell, Deacon Jones, Kurt Warner, Eric Dickerson, Dan Dierdorf, Jim Hart, Marshall Faulk, Jack Youngblood, Merlin Olsen. Los Angeles doesn't have a team anymore but the old Rams produced the Fearsome Foursome and the NFL's greatest single-season rusher.
Regrettable: Tony Banks, Trent Green, Marc Bulger, Chris Miller.
The next time you are thinking about making a jersey purchase think about your team's glory years, or even their previous team colors. It is much cooler to wear an royal and yellow Dickerson jersey to a Rams game than having to wear a Steven Jackson jersey while he is playing in Atlanta. Don't wear a Lake Dawson jersey when you can wear a Len Dawson jersey.
Buy quality over crap.
Stop Buying Current NFL Jerseys — AFC Edition (coming soon)