I have experienced some sadness in my life, the loss of my mother to cancer when I was 19, the loss of my grandparents, broken relationships, disappointing results on an athletic field or poker table.
But this sadness is different. As I write this blog at Noon Friday I already know that my beloved dog Pirate will no longer be with me at Noon tomorrow. Pirate is living with a tennis ball-sized mass on his liver, and his liver is shutting down. Although he wants to eat he does it sparingly because he can barely go to the bathroom. He's lost 18 pounds in three weeks. Rather than risk him having major surgery at the advanced age of 11 (he would be 12 years old in 10 days), I have decided the most unselfish thing I can do is send him to the great big dog park in the sky.
With all due respect to Kevin Hawn, who I have known since second grade, or Jim Nelson, my friend since college, or Ben Devlin, my confidant and amigo here in Las Vegas, Pirate has been my best friend the past 12 years.
I adopted Pirate when he was three months old. He came from Wayside Waifs in Kansas City, one of the last puppies adopted out of a litter of 10. For someone who's never really had a pet, I fell in love with this guy immediately.
Pirate came to my house with a purpose. When I adopted him in 2001 my house has been burglarized twice over a three-month period. I was living in the Waldo area of Kansas City, which is not a bad neighborhood. I was also working as a producer and anchor of a live television show in Kansas City. Therefore, if you knew where I lived, and you knew I was on TV at the moment, you knew I wasn't at home.
Pirate's job was to protect our house, and he was a champ at it. Though he would prove to be a big softie who loved everyone and just wanted attention, he was blessed with a massive bark. To prepare for Pirate I had a privacy fence put around my house. Once Pirate was added, no one dared break into my house again. The sound of the dog you couldn't see behind that fence was a warning to would-be criminals — stay out!
The big secret, however, was the Pirate wouldn't hurt a soul. He was beloved by neighbors, the postal carriers/UPS drivers who came to my door and by everyone who met him. All he asked of anyone who visited the house was a belly rub for as long as you could.
When Pirate was still young and small, Kansas City was hit with a huge ice storm. The impact felled trees and knocked out power across the city. Pirate and I had to move in with friends in Overland Park while our house was without power for eight days. There he shared a house with two cats, Jordan and Skyy. Pirate never chased them or barked at them, and he generally stayed out of their way.
Pirate and I moved to the Brookside neighborhood of Kansas City in 2004. There he had a huge yard with a picket fence on the corner of a fairly busy intersection. Pirate loved to patrol that yard. He wore a way a strip of grass the width of a dog just inside the fence line the entire 300-foot length of that fence. He loved to chase bunnies and squirrels out of the yard. But his favorite past time was to go down to the far corner of the fence, nearest the stoplight of the intersection. He would stand there whenever a city bus was at the light, ready to make a left and go up the hill past our house. As soon as that bus started up the hill, Pirate would sprint along the fence line stride for stride with that bus, barking the entire way, before screeching to a halt just before smashing into the south corner of the fence. He loved chasing those buses.
In our Brookside house he grew to be 80 pounds. He loved our weekly poker game, with 10 guys coming over to play cards, watch sports and feed him the occasional pizza crust or bratwurst. He was friends with all the dogs in the neighborhood, especially Max, Lucy and Buddy. All three of those dogs were much smaller than Pirate, but he was always a gentle giant with them. They never feared him. He just wanted to get along.
He loved our neighbor's rose bushes, and she loved him coming over to smell them and hang out. One time I inadvertently left the front gate of the fence open. Pirate went outside a little later, walked out the front gate, across the street and right into a neighbor's house. He was a curious and friendly guy.
We stayed in that house for five years. By then, Pirate was famous. He had been on television several times from my days as a sportscaster for Metro Sports. He made an appearance in the Benedictine College yearbook one year. He even modeled a Benedictine College handkerchief in a marketing flyer sent out to all the alumni. Even before I was on Facebook and other social media, it seemed like everyone knew Pirate. He would spend holidays at friend's houses when I was out of town and meet their families.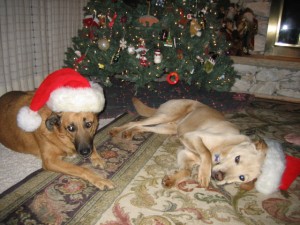 His favorite family to visit was The Brentano family. Pirate spent several Thanksgivings and Christmas Days with them while I was traveling to Las Vegas. They loved him, and he loved being there. Jordan and Skyy even began to accept him because he would never chase them. Plus he knew his jobs at the Brentano house. He was assigned to eat up all the cat food the cats dropped on the floor (because they wouldn't) and to chase all the geese out of the backyard and into the pond. He loved those jobs.
When Espn and Wrigley would come along later, the dogs of Matt Brentano and Kelly Brentano, respectively, Pirate would become their big brother and best friend.
Pirate was never much of a toy dog. He would have a few that he would squeak or walk around with from time to time. But eventually he would get tired of them. Espn and Wrigley were much more into toys, and Pirate would often give his old toys to those two dogs, or just leave them at the Brentano house when he left. Those dogs loved his toys.
Pirate also had a special relationship with his Grandpa Al. My brother and two sisters all have children, but I never have. Pirate was my child. To my dad, Pirate was another grandchild. Grandpa Al loved to visit Pirate, get down on the floor and wrestle with him. In turn, Pirate would jump and snort and bark and love every minute of it.
The hardest phone call I had to make was to call my Dad and tell him I am putting Pirate down. Even though he hasn't seen Pirate in two years, he was devastated.
In 2010, Pirate and I moved to Las Vegas. I joked that Pirate was "retiring" to Las Vegas. We struggled together living in an apartment for nine months before finding a house to rent. Eventually, I purchased a house in Henderson. When I was house shopping I was thinking about Pirate as much as myself. I found the perfect house for him. It has a pool and a huge backyard, which is rare in Vegas. When Pirate was younger he loved to swim whether it was in our neighbor's pool or the lake at Shawnee Mission Park. In the past year, he didn't swim much as his hips started to bother him. I did coax him into the water a couple of times this last summer when his friends Shane, Luke and Gavin came to visit. He loved those boys, and wanted to be in the water with them.
That was probably Pirate's greatest trait, his love of children. Even at 11, he still could conjure up the excitement of a puppy when kids are around. When he was younger he had Brynn and Colton, the two children of my brother Dave and his wife, Julie. I would bring Pirate to my grandmother's house where he would let those kids call out his name a thousand times, crawl on him, hug him, chase him around. He didn't care. He loved being with kids.
Pirate was happy every single day of his life. He had the run of the house. He knew the whole backyard belonged to him. He knew he had hundreds of friends that cared for him and loved him.
When I quit my job at Metro Sports suddenly I didn't feel like I was alone because he was there. When I was battling some depression in my life he would lay by my side and comfort me. There have been many times in my life when a relationship had ended and I walked though the door and said, "Pirate, it looks like it just you and me again." He always responded with a lick to the face.
He spent his last day with nothing but happiness. Friday night he had a dinner of brisket, a little piece of filet mignon topped with cheese and ketchup. That meal last about 12 seconds in his bowl. We went for a walk around the neighborhood. He has slowed, and even a short walk is a hard for him. But he finished up on the little patch of grass in our front yard, marking his territory one more time.
This morning I made a trip to Starbucks, and Pirate got to enjoy as much of my coffee cake as I did. We went on a car ride in my convertible. He always loved those rides. Pirate asked this his last meal be a bacon cheeseburger and fries from Jack In The Box. We took the food to the park and he woofed it right down.
Pirate came into my life when I needed him, and he has been a blessing every single day since then.
I love you, Pirate, with all my heart. Thank you for every minute I got to spend with you. You touched a lot of peoples lives. And you forever changed mine.