Friday will be my 44th birthday party. It's not a milestone birthday like a 50, but I am determined to make this one as great as can be.
I have had a relatively bad history with birthdays. My mother passed away the day after my 19th birthday. No. 37 was supposed to be hot Asian girlfriend making me breakfast in a French maid outfit and a scooter tour of the Kansas City Zoo (which I was looking forward to doing). Girlfriend didn't think she looked good in the outfit so she didn't wear it. She ruined breakfast, and she didn't want to go to the zoo, so we didn't go.
Last year was an unmitigated disaster — perhaps the worst birthday of my life — with blonde girlfriend getting drunk, picking a fight with me at the Golden Nugget and dumping me in a hotel room where we were supposed to spend the night. I ended up having to drive back home at 2AM. The she let herself into my house at 3AM to make up, scaring the daylights out of me.
They haven't all been bad. No. 30 was pretty cool, as all my friends and family visited Kansas City for a huge party at a downtown restaurant. It was one of the last times I saw my grandmother alive, and she stayed at the party until the end.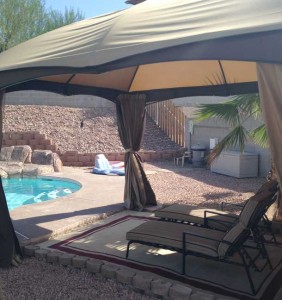 This one is going to be great! Instead of going out and trying to make it into a big shindig, the party is coming home. I am also single, which is probably the best way to be when one is having a big birthday bash at their own house in Las Vegas.
It's an all-day, all-night poker, barbeque, pool party at my house. I am opening the doors to all my friends to come hang out at the pool, play some poker and enjoy a ton of great food! Guests have already pledged brisket, pork loin and brats. I have the potato salad and macaroni salad lined up. It's still over 100F every day in the Vegas so the pool will be in the high 80s during the day and low 80s at night.
Even the new cabana is ready!
It is going to be epic.If you really know me, then you are invited. Swimsuits are recommended, but not required. Have a little cash if you want to play some poker.
It all starts Friday, August 9 at 11AM.