I was playing/supervising a $2-$4 limit Texas Hold'em game last night. One of the more entertaining players at the table would often say before the flop, "I think my 9-2 is good."
It reminded me that although most poker hands that have names are above average starting hands (i.e. A-A, Q-Q) but some very weak preflop holdings also have unique names.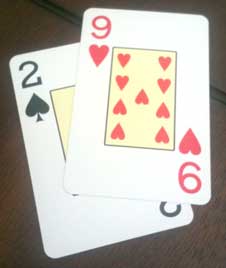 The 9-2 offsuit is referred to as the Montana Banana. It's a hand that is better suited for the casino game blackjack (for a double down bet or just to draw a face card for a 21) than any poker game, and that is where the name derives from.
The 9-2 offsuit is called the Montana Banana, as the legend goes, because banana will grow in Montana before it ever wins a hand of poker.
There is also a myth that the 9-2 offsuit is called the Montana Banana because poker player was legalized in Montana by Proposition 92. However, poker was actually legalized in Montana through the Card Games Act, 23-5-311.
The next time you get dealt a 9-2 offsuit, don't slip on the Montana Banana.