The Golden Nugget was going to need approximately 250 players to meet its goal of a $25,000 guaranteed prize pool Saturday afternoon in downtown Las Vegas. That wasn't a problem, as 449 players showed up to boost the prize pool to almost $45,000!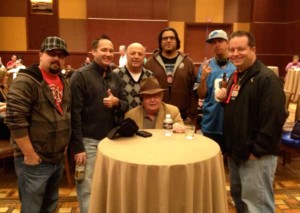 Club Fortune was well-represented as the tournament, as at least 18 Club Fortune poker room patrons made the trip downtown. The list included: Chris Nedrud, Ryan Gordon, Rusty Schaeffer, Shari Flanzer, David Stanley, Rocky Graham, Budd Moyer, Jerry Flannery, Dave Antunes, Jose Reyes, JP Delay, Lisa Peppe, Paul Koslucher, Jose Gonzales, Jon Shiohira and Al Felski and this writer.
In addition, poker pros and aficionados such as Chip Jett, Karina Jett, Susie Isaacs, The Duke of Fremont, Debbie Burkhead (Poker Player Newspaper), Paul 'Eskimo' Clark and Tom McEvoy were in attendance.
The tournament began at Noon, and Club Fortune represented well in the event.
Poker dealer Jerry Flannery busted out just before the money bubble of 45, losing a flip for most of his stack A-K vs 8-8.
After making the money, Jose Gonzales finished in 44th place, taking home $218. He was followed one spot later by JP Delay, who finished 43rd. It was JP's second cash of the week, as he took second in the Aria Tourney earlier in the week.
Jose Reyes moved up two pay levels before busting out in 23rd and grabbing $305 in the process.
Shari Flanzer finished in the top 20, while Dave Antunes had the best finish of any Club Fortune Casino customer. He ended in 11th place.