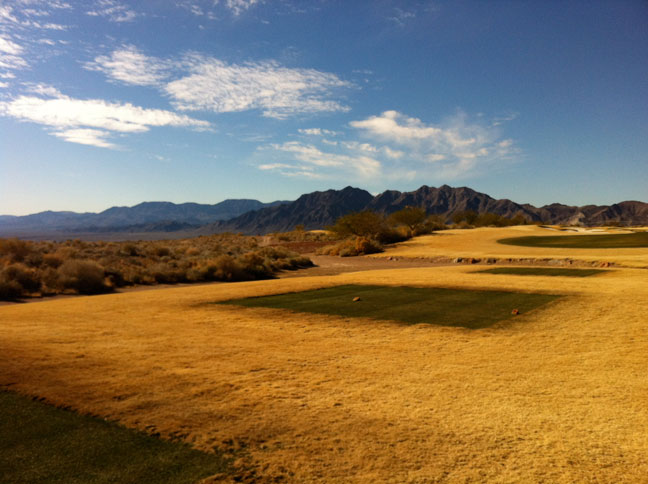 I live in Las Vegas. More accurately I live in the Las Vegas suburbs, but since there is only two of them (Henderson and North Las Vegas), I just say I live in Las Vegas. Plus Las Vegas is tiny town. Bellagio isn't in Las Vegas. Neither is Mandalay Bay. Nor is Caesars Palace. They all say they are in Las Vegas, but they aren't. They are in unincorporated Winchester, NV and unincorporated Paradise, NV. If they can claim Las Vegas, so can I.
Vegas is supposed to be all play and no work. I do work pretty hard. But I like to play. And since I have successfully avoided getting married or having kids, I can play hard when I have a weekend. Like this weekend.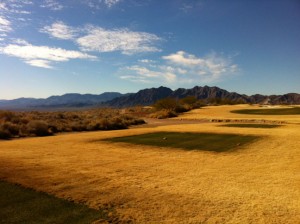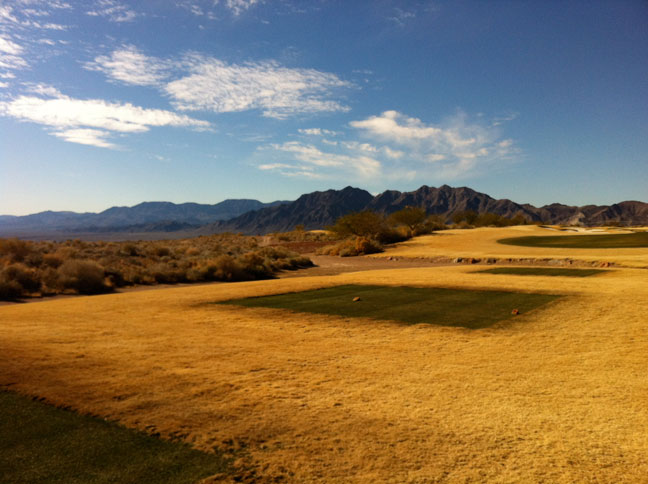 Thursday (which is my Saturday) started off with a golf outing at Boulder Creek Golf Course.
Golfing. At 9AM. In January.
Me and three buddies — Jameson, Chris and James L. hit the links with some friendly per hole wagers that increased on the par 3s.
Did you see the view in the photo. That's the first hole of one of the three nine-hold courses. Nothing but blue sky and mountains as far as they eye can see. I've golfed in worse places.
After a long round — the four of us all carry bogey handicaps — we retired to the clubhouse for a late lunch, to finish off the beers from the round and settle up money-wise. I lost $9 to Chris, but won a combined $9 from Jameson and James L. so the wagering came out just fine for my tastes.
After the short drive back to my house it was time for a nice 90-minute nap.
After the nap it was time for a shower and get ready to head to the Strip. Gambling adventures with my friend Ben at Mirage. The poker room is hosting a $50,000 freeroll next month and we are trying to qualify.
A pretty successful 'Saturday'.
Sunday (a.k.a. Friday) meant giving my weekly tour at the Neon Museum. The tours were packed this Friday with close to 25 people on each tour. I had a good mix of Midwesterners, a few locals and the usual contingent from southern California. It was also the first time I have had a tour that included a bride-to-me and bridesmaids, already decked out in full regalia.
After the tour I had time to stop by Sushi Twister for a to go order on my way back home. The weather is perfect for enjoying my patio table and chairs and having lunch outside.
After plowing through my domestic duties and another brief nap it was time to head back to the Strip. This time Ben and I had a gambling adventure from Hard Rock Hotel to Aria to Mirage. He won, I didn't. It didn't matter.
It was still another great weekend in Las Vegas!