If you're a tourist coming to Las Vegas, all you probably know is The Las Vegas Strip or downtown Las Vegas. I know. I was a tourist here for 10 years before I moved here.
I would go to the same restaurants, the same bars, the same casinos, the same poker rooms over and over again. I would go to places I could walk to since I would rarely rent a car when I was in town and cabs are expensive and time-consuming. If you've ever tried to catch a cab outside Caesars on a Saturday night you know exactly what I mean.
True cab story: on one of my last visits to Las Vegas before moving here I really wanted some good barbecue. I had lived in Kansas City for 17 years, a city that is a barbecue Mecca. (What a terrible analogy…roasted cow/pig meat and the holiest city in the religion of Islam, a religion that doesn't allow the consumption of pork!). I once took a $50 round trip cab ride from Bellagio to Memphis Championship Barbecue for a $11 meal. But I'll save that story for another time.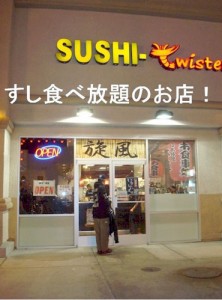 Back to Sushi Twister. I'm from a rural town in Northeast Iowa. Sushi doesn't exist in rural towns in Northeast Iowa. I didn't experience sushi the first time until I was in my 30s. I may not be an expert on the subject.
However, I have consumed a lot of sushi since then. Great local sushi like Jun's in Kansas City. I've had tourist sushi at Kona Grill on the Country Club Plaza. I've sampled great sushi all over Las Vegas, from downtown to the West side to central Strip to Henderson and all stops in between.
I place none of them above Sushi Twister on Boulder Highway.
The service is incredibly good. The staff is always quick to get you seated, quick to take an order and quick to get you served. This is a staff that is passionate about what they are doing, not a bunch of people punching a time clock.
The $21 lunch buffet is one of the best-priced in town, and at dinner the price does not go up significantly.
A few of my faves include Salmon Loves Lemon (or as my friends call it — Chad Loves Salmon Loves Lemon!), the Oh My God roll, the Spiderman (a spider roll with a twist! Get it? Sushi Twister!). The mussels are very good, addicting!
People will pack into Yama Sushi on Flamingo and wait more than an hour to get a table because it is so much closer to the Strip. Yama is good, but no better than Sushi Twister with no wait and better prices.
The only downside for you as a tourist is it will be a long cab ride from the Strip to the corner of Tropicana and Boulder Highway. But it's worth the price!
Don't believe me? Yelp it!