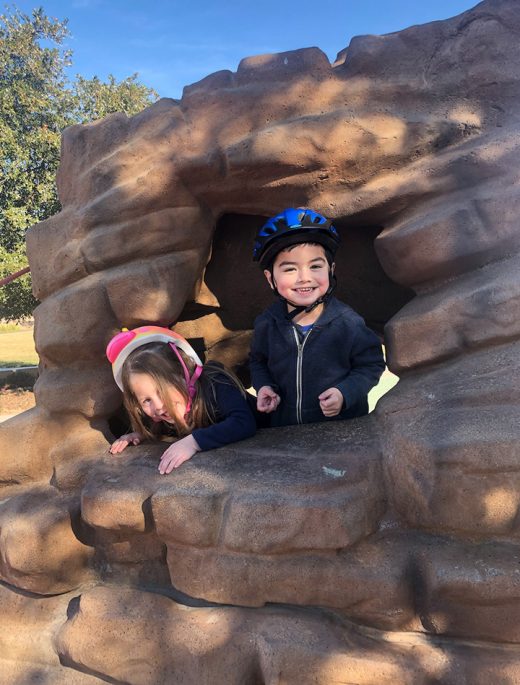 Sundays in Las Vegas as a single dad means taking your kid to the park to meet friends for a bike ride. But it also means Sunday. In Las Vegas. And this Sunday was the AFC Championship Game and the NFC Championship Game. I'm no degen, but I'm a guy who likes sports and sports betting.
Sunday started off beautifully. Again, it's Las Vegas. That means a January wintery mix of sunshine and 66-degree weather. Great weather for catching up on with old friends. I think they are called playdates. I'm an old single dad, so I don't know much of these things.
My son had fun with two of his elementary school friends. There was lots of riding bikes, climbing on things, sliding, and swinging.
You need to be young to keep up with young kids. Being 50 years old is tough when your son has a high-end motor. I lost count of how many times that kid took laps around that park on his bike. I need to get my fat ass in better shape if I want to keep up.
However, Jace and I ended up at In and Out Burger after the park, so that is probably not going to happen soon.
All the while I'm making conversation with the parents I am keeping an eye on my cell phone sports betting apps and the 12:05PM kickoff (local time) of the Chiefs-Titans game. I had little doubt the Chiefs would win, though I wasn't sure they would cover the seven-point spread. A slow-start by KC along with the run-heavy Titans offense would be just what I wanted. I paired the Chiefs and the under with the 49ers and the over in a four-team teaser. There was little doubt from the betting public that the 49ers would hammer the Packers. The line had moved an entire point since yesterday from 49ers -7 to -8. Everybody was loading up on the 49ers to win easily.
Unfortunately, the Titans and Chiefs couldn't stop the scoring in the first half. Even with a seven-point teaser, I needed the total to stay under 58.5 points for the game. The two teams scored a total of 38 in the first half, making this under unlikely.
But teaser tickets love to tease, and the Titans and Chiefs scored zero points in the third quarter. One more Chiefs score to get above 4 1/2 and little more scoring, and I was going to be halfway home on a $70 win.
In the meantime, I picked up the Chiefs at -4 1/2 in-game when it looked like the Chiefs were warming up and the Titans were struggling. I don't like making $100 bets. I am a small-time guy. But this was too juicy to pass up. Additionally, I thought my four-team teaser was going to miss due to the high-scoring first half.
As the game wound down there was no doubt the Chiefs would cover the 4.5 points and turn my $100 into $190. My teaser had hope right up until Ryan Tannehill's 22-yard TD pass with four minutes left. The PAT moved the total to 59 points for the game.
As it were, the 49ers easily covered their one point teaser and went over their game total by 18 points. I missed a $70 payday by 1/2 point.
In the nightcap, I threw $10.90 on the 49ers -8 and picked up $20. I bet roughly $134 on the day, and cashed out $210. Not a bad day's work.