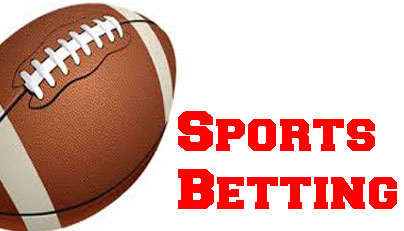 I didn't like a lot of the college football slate yesterday. I didn't trust my judgement and take Iowa State (-18), only to see the Cyclones roll Kansas, 27-3. I did trust my judgment on Iowa (+1) at Purdue, as a furious Iowa rally wasn't enough to stop the Boilermakers from covering 38-36.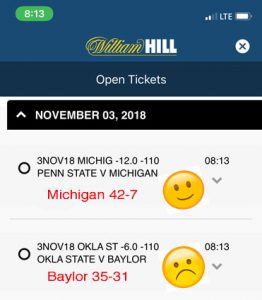 The first two bets of the day were Oklahoma State (-6) at Baylor, and Michigan (-14) hosting Penn State. Oklahoma State had a 10-point lead with nine minutes left, only to give up two touchdowns to the Bears. Not only did the Cowboys not cover, they failed to win the game outright. Michigan was a no-doubter over the Nittany Lions. The Wolverines revenge tour continued with a 42-7 trouncing that saw Penn State go to a backup quarterback in the fourth quarter.
Since I bet the same amount on both games, I was down the cost of the juice (the money the booker takes for booking the bet).
I decided to jump on Alabama (-13 1/2) right after kickoff at LSU. It was a good choice, as the Tide rolled 29-0.
I wish I had believed a little more in Fresno State. UNLV starting QB was returning from injury, and I thought the Runnin' Rebels might have a shot to cover the 27 points against Fresno State. I was wrong. Fresno State won 48-3 over a bad UNLV team. I'm glad I didn't bet that game.
I haven't made my NFL picks yet, as it is still two hours to kickoffs.
However, I am leaning toward Chiefs (-8) at Browns and Vikings (-5) at home against the Lions in the early games. In the afternoon, the Rams have moved from a pick'em to -2 at New Orleans. I still like the Rams in this game. Sunday night, I'll probably take the Patriots (- 5 1/2) hosting the Packers in Foxboro.
I'll post my official picks on Twitter.