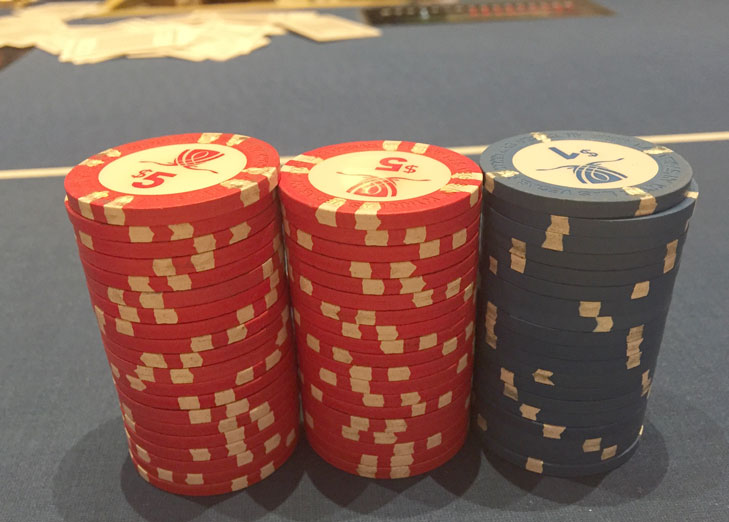 My latest poker adventure was to the Wynn Poker Room (which is actually in Encore) for a session of $1-3NL. The goal was simple: turn $220 into $1,000. The execution was awful.
The litany of reasons:
Not aggressive enough with A-K against a pre flop raiser on a K-Q-10 flop. Raiser bet into me on the flop and the turn, and I called both times. River was an Ace, which sucked for my hand. Raiser bet into me $100. I was hoping for him to have A-Q. Unfortunately, he had J-10 offsuit and rivered a straight.
Played too many hands, and a few suited hands out of position.
Got A-A twice in the small blind. Raised to $15 and only won $4 each time.
Missed set mining about five times with small pairs in raised pots.
I lost the original $220 in about two hours and rebought for $300 more. I dusted that off in about two more hours and went into my pocket for another $280. I am never in a game for $800 but I knew there were two or three poor players in the game and I had a shot to get my money back. In addition, I had started getting my money in good (A-Q vs 10-9 and J-J vs Q-10) and still lost. I knew if I kept getting my money in good I could get my money back.
The upswing started almost immediately after the third buy-in.
J-J vs. ??. I called a preflop raise of $12 with J-J in the small blind. Flop was 8-7-3 rainbow. I bet $20 into raiser. He called. Turn was 9. I bet $30. He called. River was 10. I bet $30. He called. When I showed J-J he said I was dominated all the way to the river. I shrugged and dragged the pot.
Q-Q vs. ??. I called a raise of $12 with Q-Q from the small blind against the tightest, slowest player at the table. Flop was 10-7-10. I bet $20 into raiser. He raised to $70. I called. Turn was a Q (full house!). I checked. He bet $92 of his remaining $200 into me. I Hollywooded for about 45 seconds and acted like I was just going to call the $92. I raised to $192 and he disgustedly mucked his hand.
8-9 spades vs. ??. Flop was A-J-2 with one spade. Check-Check. Turn was a 7 of spades. Bet of $25 into me. I called with a flush and straight draw. River was a rainbow 10. Unless the player was betting with K-Q into me (unlikely) I was in great shape. Player checked. I bet $55. No call. Another pot.
I ran my stack up to $733. It was not quite the $800 I was in the game for but I had to go. I had been playing for 8 1/2 hours and it was after 4AM. I had to pick up my son at 10AM for a full day of activities and I needed to get a little sleep.
It was a $67 loss — and losses always suck — but I was happy with my read of the table and my perseverance in the game.