As a hinted to last week, I am making a move in the poker world.
Thursday was my final day at the Mandalay Bay poker room. After almost 3 1/2 years I needed a change.
Frankly, I grew tired of wearing a suit and tie four days per week and managing people. I have been a manager of people every year of my life since I was 24 years old. Most of that time I have worn suits to jobs in college athletics, professional hockey, television and the casino industry. My plan when I moved to Las Vegas seven years ago was to never wear a suit to work again. Yet, due to circumstances — typically better pay or better insurance for my young son — I took the suit and tie job and sucked it up. No more.
I am going to be a worker bee for a little while as I follow a plan to build and empire for Jace and myself.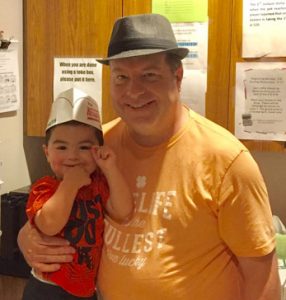 I went out with some style. Jace and I stopped by a Krispy Kreme and picked up three dozen donuts for the staff. Since I was the only person on the staff to work all three shifts (day, swing and into graveyard) every week I thought it was important to thank the entire staff there. We dropped off the donuts around 10:30AM and then had the day to ourselves before I had to work at 6PM as a dealer.
The 3+years at Mandalay Bay were great. The room is rarely super busy so you have time to monitors the players and the dealers. It is a lot of standing (usually 7 1/2 hours out of each 8 hour shift), but I also cherished the interaction with the regular guests. There was a lot of time to talk about poker, sports gambling, horse racing or just what was going on around Las Vegas.
I won't miss the paperwork. Nevada gaming and each individual casino requires a certain amount of paperwork and signatures each day. Mandalay Bay poker takes it to the extreme nth level. You have to be meticulous every single day, and there was no such thing as a day where you did it all correctly. That is what I grew tired of dealing with. I take quite a bit of pride in how hard I work and how much pride I have in doing my job correctly. Unfortunately, I loved Mandalay Bay a whole lot more than Mandalay Bay loved me. Nevertheless, it was a great experience and I am glad I spent time there.
Now its on to Caesar's Palace, where I got a job as a temporary dealer during the busy summer months. Caesar's has a new room they built three years ago. A good number of the locals I used to deal to have migrated there over the past three years. I am looking forward to the new challenge of dealing center Strip and seeing if I can prove myself worthy of a permanent position. The new job starts Sunday and I am ready to go.