Today was Jace's six-month birthday. Only a baby's age is measured in months, and then only up to a one year (I will never call my child a 14-month old. He will simply be 1).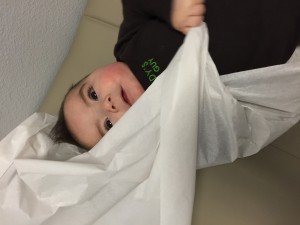 Despite the special day, we had a pretty ordinary day for the little monkey. We started the day with a routine followup with a doctor. We stopped by work at Mandalay Bay to pick up a few things from my locker. We went to Target and spent a filthy amount of money on baby-related items.
Jace at six months is a funny, curious, gibberish-talking, round mound of infant. He is starting to take in the world around him. He pets (pulls the fur) of his dog, Ace. His interest level in any object starts and stops at 'will this fit in my mouth'. He has two little teeth and big hair.
He has started to eat solid foods, as long as you loosely define the word solid. It's mainly oatmeal or vegetables that are smashed into a fine sauce. He is a sloppy eater who enjoys the splatter of an uncovered sneeze with a mouth full of veggie sauce.
Me, with Jace at six months? That's a different story. I've had to learn a lot more patience and a lot more planning. I have my son every day by myself. I have to plan ahead for what errands to run and which ones to skip until a different time.
Jace is still a little too small to ride in shopping carts and a little too heavy to haul around in his car seat. A lot of places I end up putting the car seat in the shopping cart, which leaves little room for actual shopping.
I have to try to take a nap when he takes a nap or go to work on less than five hours of sleep. I do more laundry, more dishes and clean up more messes than I ever have.
Yet, I'm encouraged by what is coming. He is working on sitting up which is a precursor to crawling and leads to walking. His mobility, as I am told, will lead to a lot less carrying him but a lot more WATCHING him as he finds trouble everywhere he goes.
In May, Jace will be taking his first commercial plane ride to Kansas City and Iowa. He will be 10 1/2 months old. I took my first commercial plane ride in 1992 as a student sports information assistant with the Northern Iowa women's basketball team to play Southwest Missouri State. I was 23 years old.
Jace is a great kid, and I am truly blessed to have him. I spend all of my time now trying to find ways to make his life better each day. As every parent knows, I will probably spend the rest of my life working on that.
Happy 6-month birthday, Jace.