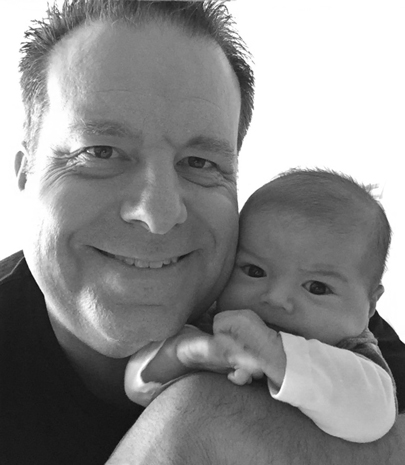 Being a single dad is challenging. Diaper changes and feedings are relatively easy. In between diaper changes and feedings are not so easy. There is a lot of crying, a little screaming, a little pulling out of my quickly-graying hair. Babies cannot tell you what they want, but they can tell you they are upset. They are like little Congressmen.
What (I think) I have learned so far in no particular order:
Jace has really cool clothes. Logo t-shirts, jammies, little socks and hats and onesies. Unfortunately, these clothes last approximately 90 days before he is too big to wear them again. Baby clothes go from 0-3 months, 3-6 months, 6-9 months and 9 months-1 year. This kid will have four all new wardrobes by the time he is old enough to smash his hands into a cake to celebrate his first birthday.I still wear a windbreaker the youth basketball team I coached gave me in 1995.
Also, I think adults should get to wear onesies.
Diaper Genies make one long intestine of dirty diapers. My Diaper Genie was full…or at least it seemed full…or maybe I just had a few diapers jammed in the chute. Regardless, it felt full. I needed to change the bag for the first time. Diaper Genies are about two feet tall. As I pulled out the bag for the first time I discovered it holds about six feet worth of diapers.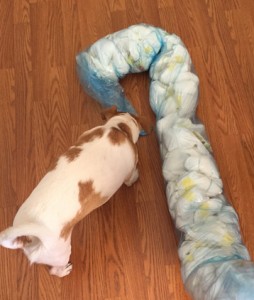 The diapers wrap around in one long blue sack like a large intestine. Which is appropriate because they hold a lot of stuff that passes through the large intestine. I was so impressed by the length of the magical poopy bag I laid it out on the dining room floor. This also impressed the dog. Ace was infatuated by what the human race would refer to as waste, but the canine race would probably call food.
I picked up this giant sack of disposable diapers and tossed them in the garbage container in the garage. Ace used this exact moment to drop a deuce on the dining room floor where the sack had been moments earlier. I guess he was contributing to the cause.
Babies have terrible timing. Just as the Vikings are marching toward a game-clinching touchdown, Jace will wake up and cry. Right when you are considering whether to call off your whole stack with a nut flush draw in a game of online poker, Jace will be hungry. As you take your first bite of lunch, Jace will scream. He doesn't mean to do it, but he doesn't really care what you have going on. Nor should he.
When he doesn't spend the night, I still fall asleep to "Twinkle, Twinkle, Little Star." Jace spends seven days per week at my house, and usually 1-2 nights. I work nights so he spends seven nights per week with his mother and 1-2 days. When he spends the night I put him in his crib with his lullaby relaxation machine. He had this in the NICU as a way to help him relax and fall asleep. I bought him one of these machines for his crib. It projects cartoon jungle animals on the ceiling while playing Twinkle, Twinkle, Little Star, Mozart, white noise, a heartbeat, etc. When he is not spending the night, I still listen to it so I can fall asleep.
Babies are crazy expensive. I have great insurance, and so does his mom. Which is a good thing. Because having a baby is not cheap. I haven't seen all the bills yet, but just the ones in dispute are more than $85,000. His NICU bill was routinely more than $2,500 per day. He could have stayed a week in a penthouse suite at Mandalay Bay for less than that.
Right after his release from the NICU he had to see the pediatrician for the first time. It was just a routine check-up and a few immunizations.
Here is the invoice: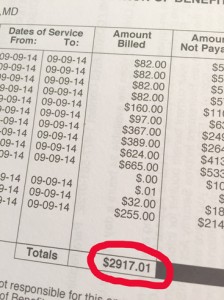 Thankfully, the co-pay was considerably less than the $2917 for a 90-minute doctor visit and a little anti-cooties juice.
After all the things I've learned, I've also learned I still don't know a damn thing. Babies are hard. Having one all by yourself 70 hours per week is really hard. The three of us — Jace, Ace and myself — are slowly figuring things out.
Just in time to wrap this up…Jace is stirring.