I've been off my blog — and off the grid — for a few months now. Publicly, I stated it was for personal business. Privately, my close friends knew was that business entailed.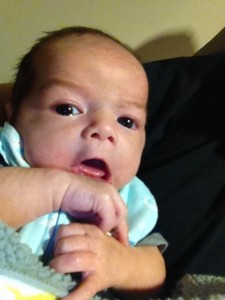 Meet Jace Allen Harberts.
Jace was born July 16, 2014, at Spring Valley Hospital in Las Vegas. Due to some complications during pregnancy, Jace spent a full seven weeks in the Newborn Intensive Care Unit (NICU) getting around-the-clock care from an excellent nursing and doctor staff, in addition to his mother (my ex-girlfriend) and your fearless author.
I am happy to report that is he home to his mother and I, and we share custody of him.
I wasn't expecting to be a parent, except to pets, for the first time a few weeks shy of my 45th birthday. However, those are the curveballs life sometimes tosses your way.
Obviously a few changes had to be made to accommodate this sweet addition to the family. One, my poker playing career is definitely on hold. Secondly, I changed the title of this blog to Single Dad, Sin City.
There will definitely still be some poker related content. That dream always stays in the back of my mind day and night. But my focus has changed. Now I'm playing for a different purpose. As the legendary Joey Knish said in the great poker movie Rounders, "I'm not playing for the thrill of (effing) victory here," said Knish. "I owe rent, alimony, child support. I play for money. My kids eat."
I did manage to play in one World Series of Poker Event. For the fourth consecutive year I used my gaming credentials to play in Event #1, the $500 buyin Casino Employees Event. I cashed in this event two years ago, but was not as fortunate this time around. After some early success I went pretty card dead. About five hours in I was sent to the rail.
Since that event my poker has been limited to maybe once per week, usually late at night between trips to the hospital to feed my son in the NICU. I've barely played at all since his release, though I did carve out a small win in the Mandalay Bay poker room today.
It's poignant that the arrival of Jace pushed my poker playing to the back burner. The great weekly poker game I hosted at my home in Kansas City 10 years ago died due to my married friends having children, which led to less time and less opportunity for them to play poker. By the end, I was the only single, childless guy left in the game. So I packed up my stuff and moved to Las Vegas.
Did you know Las Vegas has the most single dads per capita of any city in America? That's a fun little fact I found out recently. I'm glad I could contribute to the cause.
Jace is a blessing. But since I spent all of my adult years childless I am learning all kinds of new things. Baby diapers come in many
sizes. Baby clothes are cool and cheap, but they only last about three months and the kid outgrows them. When my baby poops it looks like someone exploded a can of spinach in a microwave. He has a schedule, and you are now on it. He doesn't care if you sleep as long as you are awake when he is awake. When he is hungry he screams and his head turns bright red. The moment the bottle hits his lips, he quits screaming immediately and all the redness drains from his face instantly.
I love this guy so much. I have so much to learn.
And I have so much to teach him. Like poker.