Chad Harberts is a poker shift supervisor, wannabe professional poker player, radio and television personality and business owner.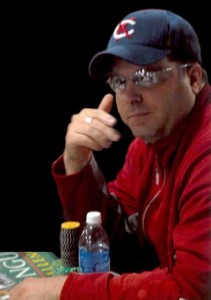 His experience includes two years of sports public relations at the University of Northern Iowa, six years of sports marketing and sports information with the NCAA Division I University of Missouri-Kansas City, marketing and promotions with the minor-league Kansas City Blades hockey team, and more than 20 years experience in print, radio and television.
As the co-creator, producer and co-anchor of "High School Roundup" on Metro Sports TV in Kansas City from 1997-2004, Chad earned two Aurora Awards, two Telly Awards and a regional Emmy for his contributions.
In 2004, "High School Roundup" was named the best local show on cable in the four-State region.
Chad's career began as the Sports Editor for one year and Executive Editor for one year of the Marshalltown Community College newspaper.
He went on to the University of Northern Iowa, where he was Sports Editor of The Northern Iowan for three semesters.
During his time in Cedar Falls, he was a stringer for United Press International, a part-time sportswriter for The Waterloo Courier and a overnight weekend disc jockey at Album Oriented Rock Radio KFMW FM 108. In addition to his full-time employment in Kansas City, Chad has written news for The Blue Springs Examiner and hosted shows on 1510 AM (then Sports Radio 1510 KCTE-AM) and 610 Sports. He as been a weekly guest on Prep Xtra, a web-based TV show produced by WDAF Fox TV, a weekly guest on 38 The Spot with Jack Harry and the host of High School Showcase on KCWE Channel 29. He also served as a weekly guest on Crunch Time with Dave Stewart and Len Dickey and host Friday Night Live, both on Sports Radio 810 WHB.
Chad previously served as Executive Director of the Greater Kansas City Football Coaches Association, the Greater Kansas City Basketball Coaches Association and the Greater Kansas City Volleyball Coaches Association. He has also consulted the Greater Kansas City Baseball Coaches Association.
In 2010, Chad relocated to Las Vegas. After attending Casino Gaming School he secured a job at The Poker Palace in North Las Vegas as a poker dealer. He would go on to deal at The Golden Nugget and Club Fortune Casino. At his last stop, he rose from dealer to Poker Room Manager in just 18 months. In 2014, Chad left the local's poker scene and secured a poker position on world-famous Las Vegas Strip, the center of the poker universe.
As a poker player, Chad has played in tournaments across the country. His lifetime tournament cashes includes the Scotty Nguyen Open in Oklahama, the Oasis Open in Mesquite, Nev., the World Series of Poker Circuit Event at Caesar's Palace in Las Vegas, and various smaller tournaments in Kansas City, Las Vegas and other places. His biggest tournament cash came in the nightly $100,000 guarantee tourney on PokerStars, where he finished first.
In 2012, Chad achieved his first-ever World Series of Poker cash, finishing 61st in the Casino Employees Event.
Chad currently resides in Henderson, NV, with his son Jace and dog Ace.